Welding with Sawyer Fabrication
An inside look at our Precision Welding Capabilities
MIG, TIG, SAW and WOL
Sawyer Fabrication's welding technicians are masters of their craft, second to none in the industry. From relatively simple one-off fabrication jobs to large-scale heavy weldments, we tackle every job with strategic efficiency.
Sometimes that means drawing on decades of expertise to engineer a bulletproof design from the most premium metals, then TIG welding the componentry with micrometer precision. Other times that means performing a balancing act between material cost, weld strength, tolerances and aesthetics to fabricate the optimal prototype for your specific market application.
In any case, the result is the same: Sawyer Fabrication designs, builds, and delivers perfectly welded componentry optimized for every unique job.
Sawyer Fabrication Welding is fully certified to Deliver Precision
Our expert team of welders are rigorously trained, tested and certified to deliver the most complex weldments on the market. Our welders are certified to meet and exceed all ASME Boiler and Pressure Codes and AWS D1 code requirements. At Sawyer Fab, we strive to stay on the leading edge of the industry by continually training our welders while constantly pushing the boundaries of our fabrication skills and capabilities.

A Full Range of Precision Welding Capabilities
Sawyer Fabrication's team includes master welders who specialize in carbon steel, aluminum, stainless steel and specialty alloys. Our welding team is certified to meet and exceed the most stringent specifications, including:
AWS D1.1 Structural Welding Code – Steel
AWS D1.2 Structural Welding Code – Aluminum
AWS D.1.3 Structural Welding Code – Sheet Steel
AWS D1.6 Structural Welding Code – Stainless Steel
ASME Boiler and Pressure Vessel Code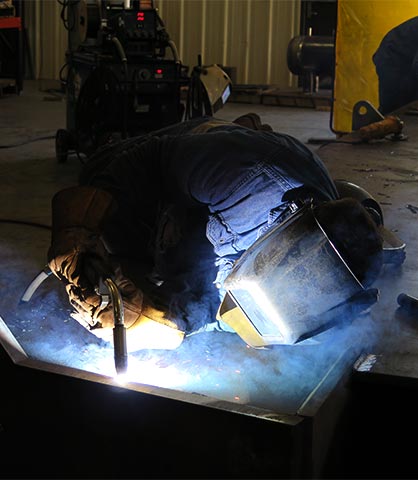 Our team offers a full spectrum of welding capabilities to our diverse range of clients. Some of the welding processes and services we offer include:
Shielded Metal Arc Welding (SMAW/Stick Electrode)
Gas Metal Arc Welding (GMAW/MIG)
Gas Tungsten Arc Welding (GTAW/TIG)
Flux Core Arc Welding (FCAW)
Submerged Arc Welding (SAW)
Weld Overlay (WOL) – Aluminum Bronze
Cladding
Spray
Stud
Welding Acronyms 101:
An Overview of the Sawyer Fabrication Welding Processes
Like most technical industries, the welding world is full of acronyms and sophisticated-sounding technology. Here's a brief overview of the meaning behind the acronyms in Sawyer Fabrication's long list of precision welding capabilities.
MIG / GMAW –

The Sawyer Fab facility is fully outfitted with gas metal arc welding (GMAW) equipment. Commonly referred to as metal inert gas (MIG) welding, the GMAW process uses a wire electrode that forms an electric arc between two pieces of working metal. The arc heats and melts the workpiece metals, creating a reliable welded joint.
GTAW / TIG –

Sawyer Fabrication is also fully outfitted with gas tungsten arc welding (GTAW) equipment. Commonly referred to as tungsten inert gas (TIG) welding, this process utilizes a specialized, non-consumable tungsten electrode shielded from the atmosphere by argon or helium gas. GTAW or TIG welding is a more advanced process commonly used for welding stainless steel and non-ferrous metals including aluminum, copper, and magnesium.
SAW –

Another advanced welding process offered by Sawyer Fabrication is submerged arc welding or SAW. This process uses a granular, fusible flux material to submerge the molten weld material and arc zone, protecting the weld from atmospheric contamination. The SAW process has some distinct advantages such as deep weld penetration, high welding speeds, and minimum fumes, making it suitable for many on-site indoor welding jobs.
SMAW –

The Sawyer Fab team includes leading experts in shielded metal arc welding (SMAW), commonly referred to as stick welding. This manual welding process requires years to master and is most suitable for welding heavy iron and steel componentry.
FCAW –

Last but not least, Sawyer Fabrication's facility is outfitted for flux-cored arc welding (FCAW) technology. This process utilizes a consumable, flux-cored electrode that is continuously fed by the welder. The FCAW process eliminates the need for stick electrodes required in SMAW applications, making the welds simpler and often quicker to perform.
View our Projects and read our full list of Welding Capabilities. Or Contact Us to discuss your fabrication and welding project.