Metal Finishing and Shot Blasting 101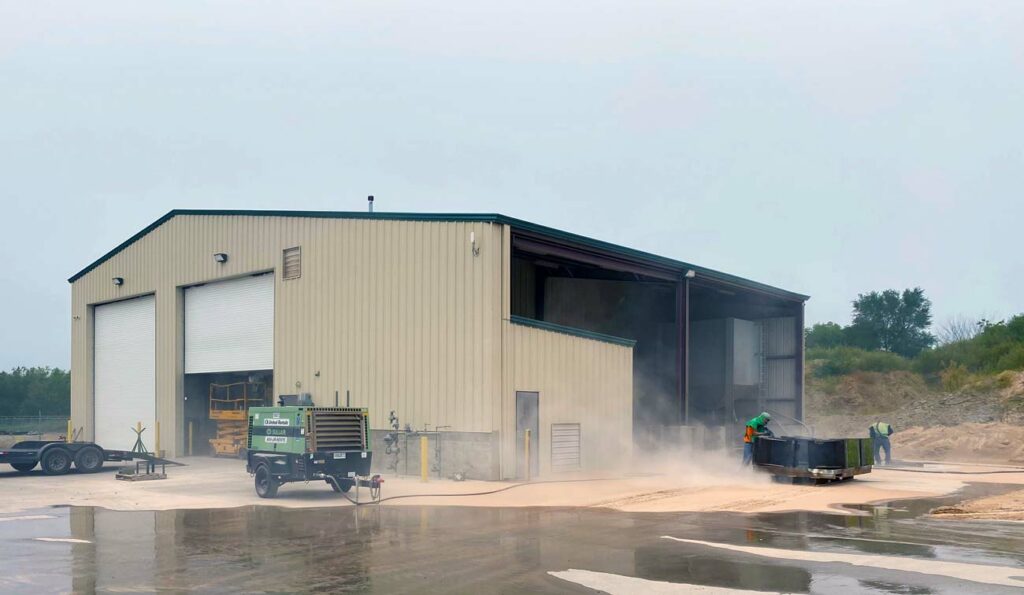 Sawyer Fabrication's Coating Shop
–
No custom fabrication shop is complete without a quality pretreatment and metal finishing setup. That's why we oufitted Sawyer Fab with a large paint and blast facility along with all the metal finishing equipment to get a quality paint job every time.
Our finishing facilities provide the ideal environment for abrasive shot blasting and premium industrial painting year-round.
60' x 80' Industrial Coatings Facility
20' x 60' Industrial Blast Space
The Path Toward Precision Starts at the Surface of Your Components
Blasting the surface of the part removes grease, previous coatings, dust or rust through abrasion – leaving a clean and slightly rough surface for the paint to adhere to. You need the metal of your components stripped clean to get the most pristine finish possible and to create a tougher exterior that doesn't chip as easily.
Sandblasting also prevents corrosion by stripping oxidation off of the steel. Left untreated, the metal will quickly form rust.
A full list of Sawyer Fab's shot blasting services, media and stripping capabilities includes:
Blast Capabilities
Abrasive Shot Blasting
Services
Surface Texturing
Grit Blasting
Paint Stripping
Pre-Coating Preparation
Coating Removal
Grit Blasting
Spray Washing
Masking
Degreasing
Removes
Painting
Plating
Powder Coating
Mill Scale
Heat Treat Scale
Rust
Other Surface Imperfections
Media
Steel Grit and Shot
Stainless Steel Shot
Ceramic Bead
Glass Bead
Aluminum Oxide
Garnet
Plastic
Walnut Shell
Corn Cob
Metal Finishing – Completing Your Components with Precision and Style
Once all the metal of your fabricated component has been blasted off, it's time to give them a pristine coat of paint for protection and aesthetics. Beyond good looks, our painting capabilities allow us to deliver the most durable and corrosion-resistant products on the market.
We have a myriad of colors to choose from, and all of our paints can be optimized for your unique application. Whether it's resistance to heat, flames, water, rust, abrasion or the sun, Sawyer Fab has the perfect paint for your components and the expertise to spray them with precision.
Our industry-leading industrial painting capabilities and equipment include:
Application Methods
Air Atomized Electrostatic Paint Gun
Conventional Hand Held Paint Gun
HVLP guns
Rotary Atomizers
Application Process
Spray
Brush – Roller
Textured
Masking
Coating Characteristics
Abrasion Resistant
Color Addition
Condensation Resistant
Encapsulation
Flame Resistant
High Temperature
Protective
UV Resistant
Paint Color
Substrate
Alloys
Aluminum
Fiberglass
Metals
Plastic
Steel
Stainless Steel
No matter what your metal finishing requirements may be, we're confident that our premium finished components will exceed your expectations both aesthetically in the long-lasting performance they deliver without fail.
See our full list of Finish Capabilities. Or Contact Us to discuss your painting project.