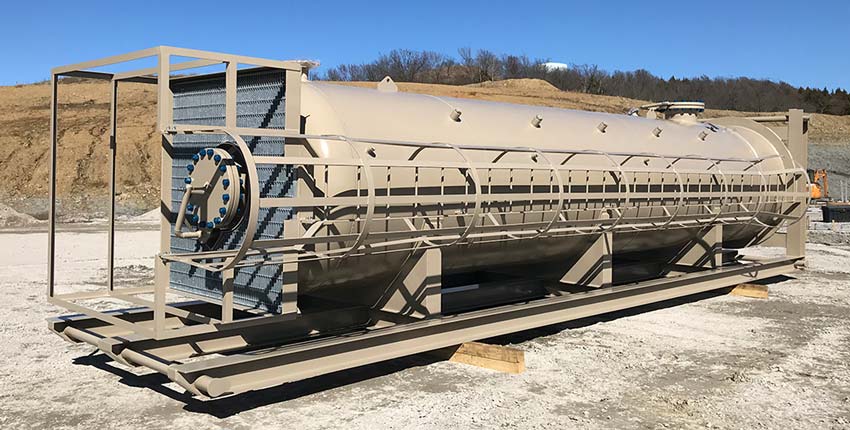 Did you know Sawyer Fabrication is ASME certified with "R" Stamp and "U" Stamps? It's true! We offer custom industrial fabrication services, specializing in ASME pressure vessels and boilers to fit your requirements.
"When you use an ASME certified company as a source for parts or services, you can rest assured that the company has been assessed and certified based on its demonstrated ability to meet the requirements of an ASME standard." – asme.org
These designations are handed out by the American Society of Mechanical Engineers (ASME) and the National Board Inspection Code (NBIC) and declare Sawyer's processes meet or exceed ASME and NBIC standards in the fabrication, repair, or alteration of boilers, pressure vessels, and other pressure-retaining items. The ASME "U" stamp certifies Sawyer's capabilities with new construction and fabrication, while the NBIC "R" stamp refers to repairs and alterations.


Pressure vessels operate in a variety of processes and environments, we focus on your specifications and provide the exact services your project requires. As a pressure vessel fabricator, we have a clear understanding of the procedures involved in completing projects in compliance with the standard recommendations of ASME. We combine quality materials and workmanship to provide an exceptional final product that will be:
Manufactured with the highest quality and craftsmanship possible
Manufactured in a clean, efficient facility
Manufactured in compliance with the laws and regulations of nearly every U.S. state and Canadian province
Manufactured in a manner worthy of being branded with stamps billed as the "hallmark of acceptance and certification" and an "internationally recognized standard"
From small to large, Sawyer Fabrication can handle your ASME project. Sawyer Fabrication has completed several pressure vessels since receiving the certifications.
Sawyer Fabrication has completed several pressure vessels since receiving the certifications.
Our fabrication services include new manufacturing, repairs, and/or alterations. We estimate and manage complete piping and vessel systems.
Contact Sawyer Fabrication today to discuss your next ASME pressure vessel project.